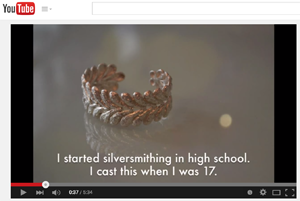 Click here for the "About JanetJewelry" Video!
See how I started: a video montage that I made in iMovie, showcasing my first silversmithing pieces in high school to glimpses of my commissioned work for celebrities!
About JanetJewelry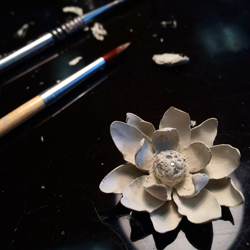 Janet Sterling Silver Design began in Janet's living room in 1997, and has since grown into a full online boutique, with clients all over the USA, Canada, Japan, and Europe, and in 2002, a retail boutique in the fashionable Chelsea District of New York City. After the birth of her 2 amazing kids (2006 and 2010), she closed the retail shop in order to spend more time with her children, and has since focused once again on working solely through her online store, this time, at a newly built home studio.
Since its inception, Janet Sterling Silver Design has been dedicated to creating pieces that are unique and modern, yet very wearable and affordable; most of the designs range between $50 and $150, although higher end pieces are also available. All pieces are Janet's original designs, both cast and handwrought, and are made of sterling silver, imported European crystals, Japanese glass, and luscious semi-precious stones. Some of the designs are now available in14K Vermeil.

Janet's jewelry has been featured in numerous magazines and newspapers: New York Times, Paper, Stuff, YM, Giant Robot, CMJ New Music Monthly, Elle Girl, New York Daily News, Bust, Revolver, and Cargo. Meredith Vieira wore Janet's Postmodern Candy Necklace on "The View," and Janet herself made her first TV appearance on The Oxygen Network's "SheCommerce," and more recently, on Style! Network's show, "Isaac," with designer Isaac Mizrahi. Her pieces have been worn by numerous celebrities, including The Killers, Cibo Matto, Blu Cantrell and Parker Posie, and she has also worked on commissioned custom pieces for Cyndi Lauper, Phantom Planet, and Jeffrey Gaines.

About Janet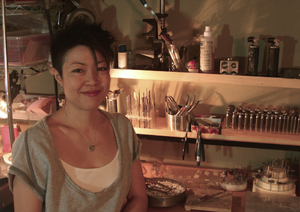 Janet Akie Masamitsu was born in Japan and raised in Honolulu, Hawaii, where she began taking silversmithing classes at Punahou School. She received her BA from Santa Clara University, with a major in History, a minor in Art History, and a European Studies Emphasis. Jewelry making took a backseat while she pursued a teaching career, but after receiving her MA in Gender Politics from New York University, she realized that she spent all her spare time making jewelry, and decided to turn her hobby into her dream vocation.

With assistance from Phoebe Wong, who has been meticulously photographing all the new jewelry photos, Janet programs her own website, and maintains her own Instagram, Twitter, and Pinterest pages. Recently, she has been trying to figure out how to incorporate video into her website. So many ideas, so little time!
Janet resides in downtown New York City with her husband, 2 fantastic kids, and a fish named George. She designs, produces, and makes all the jewelry in her NYC home studio.